Description
Lund is a leading manufacturer of aftermarket truck accessories, producing everything from high-quality tonneau covers to bumpers, bull bars, and running boards. As a RealTruck-owned company, Lund is known for producing quality components at affordable prices, and its tonneau covers are no exception! 
Lund tonneau cover feature quality manufacturing from premium materials, like lightweight and dependable aluminum, marine-grade vinyl, and heavy-duty HAARTZ twill weave fabric. All covers feature a simple clamp-on installation, include all hardware, and are made right here in the USA. RealTruck places so much confidence in its Lund tonneau cover, that each product gets backed with the confidence of a limited lifetime warranty; try saying that about lesser-quality competitors!


Lund Tonneau Cover Styles
Lund offers tonneau covers in various styles, suiting alternative needs, aesthetic preferences, and budgets.
Lund Hard Folding Tonneau Covers
One of Lund's most popular offerings is its premium hard-folding tonneau covers, featuring rugged aluminum panels topped with premium, double-side marine-grade vinyl. The one-piece outer shell and foam-rubber seals make for weatherproof protection while rugged aluminum under panels prevent thieves from gaining access to your valuable belongings. As a bonus, lund hard folding tonneau covers can support up to 350 pounds evenly distributed.
Lund Genesis Tri-Fold Tonneau Covers
Lund tri-fold tonneau covers are similar to the company's hard folding options; however, they ditch the aluminum under panels for a rigid aluminum frame and a double-sided vinyl or HAARTZ twill outer cover. Though less secure than their hard-folding counterparts, Lund tri-fold tonneau covers provide exceptional weather resistance and theft deterrence for half the price!
Lund Genesis Roll-Up Tonneau Covers 
Lund's Roll-Up tonneau covers feature a similar construction to its tri-fold covers, including aluminum side rails and a double-sided vinyl or twill top. Unlike the tri-fold cover, the roll-up cover doesn't feature hinges. Instead, it rolls forward once unlatched, exposing nearly 100 percent of your pickup's bed for loading oversized cargo!
Genesis Vs. Genesis Elite
Lund's Genesis soft tonneau covers come in two configurations: the Genesis and Genesis Elite. While both covers are practically identical, the standard Genesis utilizes a glossy double-sided vinyl outer shell while the Genesis Elite features a matte HAARTZ twill outer shell.
Textured vinyl material
Weather tight seals keep your cargo dry
Intergrated clip and strap system allows the vehicle to operate with the top in the open (folded) position
Frame fabricated from corrosion resistant powder-coated aluminum and high-impact polycarbonate
Locking clamps for an easy no-drill installation
Limited lifetime warranty
Are you in the market for a premium, stylish tonneau cover that'll protect your truck's cargo without breaking the bank? Then consider investing in a Genesis Tri-Fold Tonneau Cover from Lund! This high-quality bed cover offers durable construction, easy use, and quick installation, making it an obvious choice for budget-minded individuals.
Construction-wise, the Lund Genesis features a classic soft design. A durable, marine-grade vinyl tarp stretches over a corrosion-resistant, powder-coated aluminum frame, adding rigidity without excessive weight. Three individual panels are joined by two sets of hinges, allowing you to fold the cover toward the bulkhead for ⅔ bed access. And if full bed access is required to load oversized cargo, you can remove the entire cover in seconds without any tools!
The Lund Genesis offers exceptional cargo protection, guarding your valuables against extreme weather and theft. The cover's vinyl tarp isn't just durable but entirely weatherproof. And with premium foam-rubber seals at each side, rain and dust don't stand a chance!
Installing the Lund Genesis is quick and easy, requiring no drilling, trimming, modifying, or even tools. Integrated knobs and spring-loaded latches allow you to secure the cover to your pickup's bed in minutes, and removal is just as quick!
To guard your pickup's bed against weather and theft, invest in the durable, stylish, and cost-effective Lund Genesis Tri-Fold Tonneau Cover.
The Lund Genesis Tri-Fold Tonneau Cover ships fully assembled and offers a simple, tool-free installation; no drilling, trimming, or modifications are required.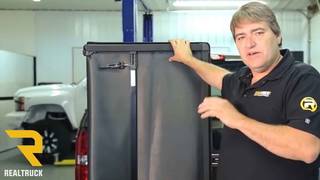 Warranty
Limited Lifetime Warranty lund tonneau cover
What is covered: All defects in materials or workmanship on select LUND branded products properly installed per provided instructions except those listed below under the One and Three Year Warranties. This warranty does not apply to any product from LUND direct or indirect subsidiaries.
For How Long: This warranty, and any implied warranties including merchantability and fitness for a particular purpose, last as long as the original retail purchases owns the vehicle on which the product is installed. The warranty expires if the product is removed from the original vehicle or if the original vehicle is transferred to another owner. The warranty is not transferable from the original purchaser.
What LUND Will Do: During the applicable warranty period listed above, LUND will, at its option, either repair or replace any defective product at no additional charge. You must pay any labor charges associated with removing or reinstalling the product. If a specific product has been discontinued, LUND may, at its option, replace your product with a current product of comparable function and value.
What These Warranties Will Not Cover: These warranties doe not cover any damage, defect, or malfunction caused by misuse, abuse, accident, improper installation, modification, improper or inadequate maintenance, or on-road and off-road hazards. Incidental and consequential damages are not recoverable under this warranty. Some states or providence do not allow the exclusion or limitation of incidental or consequential damages, so this exclusion or limitation may not apply to you.
How To Get Service: A defective product may, during the warranty period listed above, be returned to the place of purchase. Alternatively, you may contact LUND Customer Relations directly at 1-800-328-2438 to obtain information on how to obtain service. Proof of purchase must accompany all warranty returns. Returns made to LUND will not be accepted without prior authorization from LUND.